Cendrillon Rien is the ridiculously pretty, awfully pouty, and eternally delighted sado-masochistic bride of
Prince Mourant
. Yep, he's a boy.
Once upon a time, in a little group called LCP, there were two suethors named Brandi and Sarrin who played a sadistic Marquis and a rentboy who didn't know any better. The renter told his finely-dressed friend a very dark version of the famous fairy tale, in which Cinderella is a boy, sexually abused by his stepbrothers, who is plucked into Death's fairy-esque court to be the bride of the cold-hearted prince.
Appearance
Edit
Cendrillon is a small, androgynous, black-haired, blue-eyed boy of seventeen. His left eye is missing, as his lordship pecked it out on their honeymoon. Nice way to start a relationship.
Verse Plot
Edit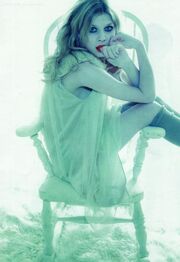 Prince Mourant
Edit
Prince Mourant is the undead faery ruler of Under-the-Hill, whose little intrigue won him Cendrillon as a bride. Because the boy is - well, a boy - it took Mourant some effort, which he tells the boy was worth it. But Mourant is cold and cruel and although Cendrillon slavishly adores him, there is unpleasantness up ahead, indeed.
Notre Dame
Edit
Notre Dame is the waify, mad-seeming personification of Paris itself, and when Cendrillon heard of the angel he knew he had to meet her, for his home city is one of his oldest, greatest loves. Having no one to talk to as it is, Cendrillon loves her company, flake though she is.
Marquis de Carabas
Edit
Cendrillon does not like the Marquis de Carabas. At all. No, really. And of course he doesn't have a history of falling for jerks at all...
Ad blocker interference detected!
Wikia is a free-to-use site that makes money from advertising. We have a modified experience for viewers using ad blockers

Wikia is not accessible if you've made further modifications. Remove the custom ad blocker rule(s) and the page will load as expected.