Figwit is the half-elven, half-human son of Leetah and Don Juan. According to documents left by Tearbird, he is the chosen heir of Lorien, currently under the control of humans Steerpike and Mrs. Lovett. He is played by Kris.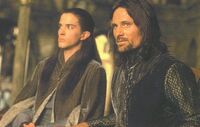 The name and image of Bret MacKenzie are from an internet joke about a minor character at the Council of Elrond, whose dour demeanor prompted the phrase "Frodo Is Great... Who Is That?"
MacKenzie is also half of Flight of the Conchords, a New Zealand humorous musical duo. This fact led to Kris's joking declaration that Figwit is "a very responsible and upstanding young elf.
"Who never, ever, joins NZ rock bands."
Ad blocker interference detected!
Wikia is a free-to-use site that makes money from advertising. We have a modified experience for viewers using ad blockers

Wikia is not accessible if you've made further modifications. Remove the custom ad blocker rule(s) and the page will load as expected.